UMBC women's swimming and diving defended their America East Championship on Sunday, February 14, 2016, with high-energy, record-setting performances.
Emily Escobedo '17, psychology, received her third straight Most Outstanding Swimmer award and has been named College Swimming's National Athlete of the Week, after winning the 200 breaststroke by more than 12 seconds, setting a UMBC, meet, and conference record of 2:06.21. With the fastest time in all of the NCAA this season—called a "monster swim" by Swimming World Magazine—Escobedo has qualified for the NCAA Championship in March.

"We are so proud of Emily, " says head coach Chad Cradock, noting, "Everything she has accomplished is through her hard work and dedication."
Kayla Lilly '17, interdisciplinary studies, took second in the 200 breaststroke with a time of 2:18.28. Laura Massicotte '19, mechanical engineering, took second in the 1,650 freestyle with a time of 17:01.25. Aleasha Knight '19, psychology, earned silver in the 200 backstroke with a time of 2:00.77.
Catherine Frediani '16, financial economics, ended her final America East Championship meet with a win in the 200 fly at 2:02.66. Hannah Sutherland '17, biological sciences, took silver in that event with a time of 2:02.96.
Coco Darelius '16, biological sciences, earned Most Outstanding Diver of the meet after winning the 3-meter dive and placing second on the 1-meter board.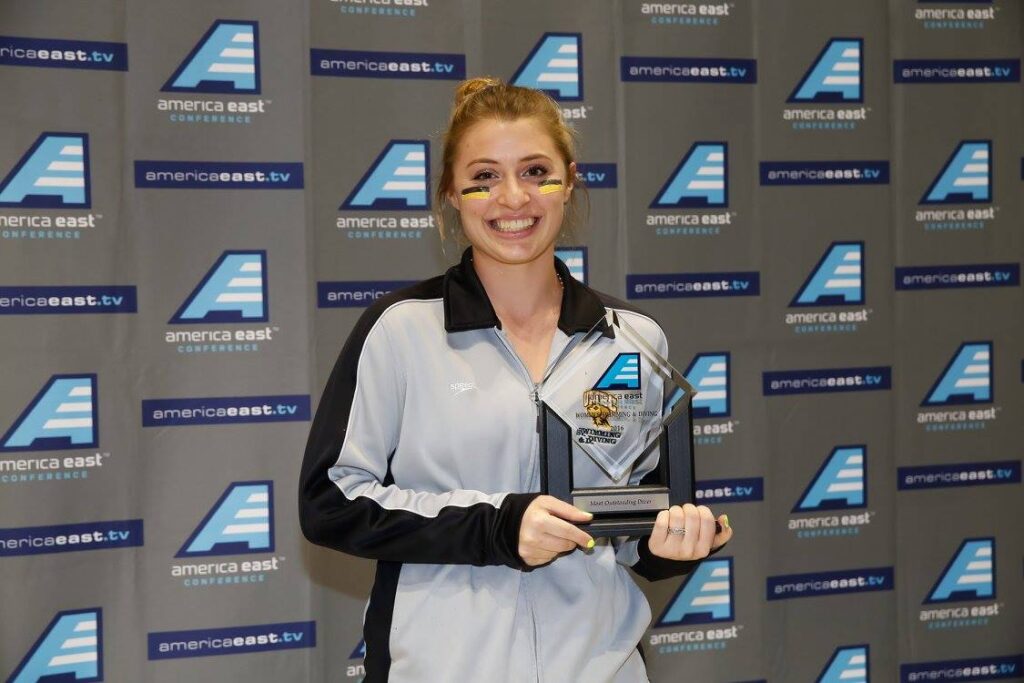 As the Retrievers claimed their second league title, with 885.5 points, Cradock spoke of his pride in the team. "They believed in us as much as we believed in them. Ultimately, they won the championship because they believed in each other," he said.
America East TV caught the swimmers' reactions to their individual and team wins in a video recap of the meet:
Video
Several UMBC swimming and diving team members will next compete February 26-28 at the Eastern Collegiate Athletic Conference Championships held in Annapolis.
See the UMBC Athletics and America East websites for details on the America East championship. Additional coverage appears in Swimming World Magazine and on  SwimSwam.com
Images: UMBC Swimming & Diving America East Championship team (top),  swimmer Emily Escobedo (middle), and diver Coco Darelius (bottom). Photos by Greg M. Cooper for America East