Hundreds gathered to celebrate colleagues' achievements and dedication to the Retriever community at the UMBC Presidential Faculty and Staff Awards Ceremony, held on April 5. The annual ceremony honors faculty and staff for their contributions to advancing the mission of UMBC and the state of Maryland, and for their commitments to teaching, learning, and excellence in research, scholarship and creative achievement.
The ceremony includes several prominent awards granted by UMBC as well as by the University System of Maryland (USM), including awards added in recent years specifically to recognize faculty and staff who demonstrate a strong commitment to student academic success, faculty career advancement, and problem-solving.
This year's awardees include:
Presidential Teaching Faculty Award
Marc Zupan, associate professor of mechanical engineering
Presidential Research Faculty Award
Sarah Shin, professor of education and special assistant to the provost for academic initiatives
Presidential Distinguished Professional Staff Award
Wendy Martin, director of the Office of Technology Development
Presidential Distinguished Non-Exempt Staff Award
Ali Shahegh, accounting associate in Residential Life
USM Board of Regents' Faculty Awards
Kathie Seley-Radtke, professor of chemistry and biochemistry
Donald Snyder, senior lecturer of media and communication studies
USM Board of Regents' Staff Awards
Denise Atkinson, executive administrative assistant in The Graduate School
Paul Dillon, deputy chief of police
Mildred Homa, research administrator for marine biotechnology and IMET
Jakubik Family Endowment Award
Janet McGlynn, director emerita of communication and outreach, Office of Undergraduate Education
Karen L. Wensch Endowment Award for Outstanding Non-Exempt Staff
Abigail Granger, program management specialist, media and communication studies
Marilyn E. Demorest Award for Faculty Advancement
J. Kevin Eckert, professor and chair of sociology, anthropology, and health administration and policy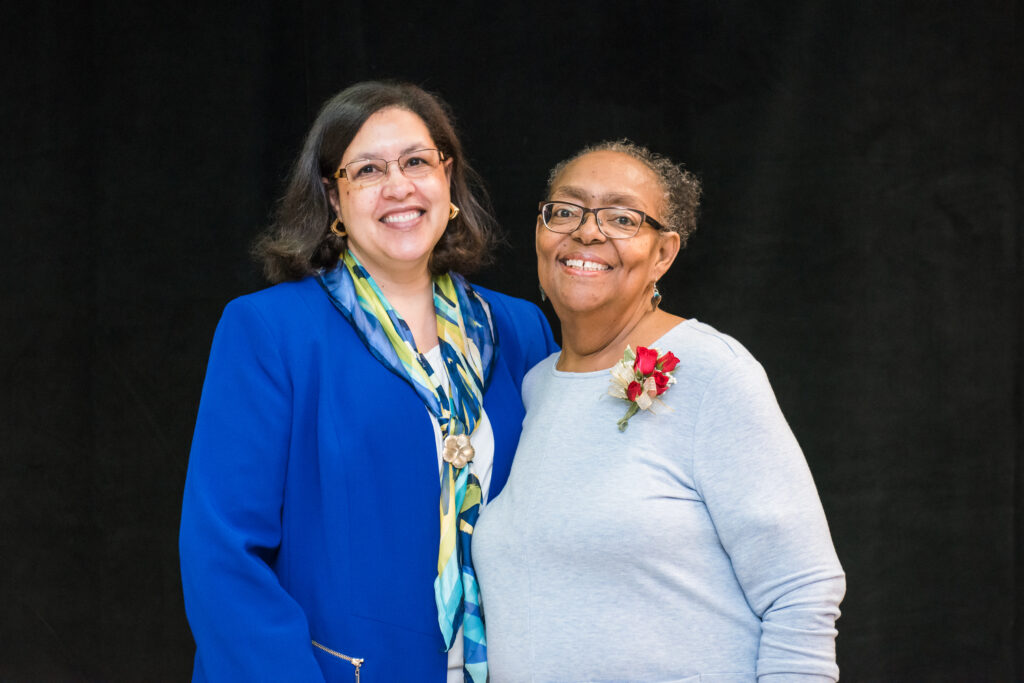 Throughout the ceremony, awardees shared their appreciation for UMBC's culture of support and collaboration, emphasizing the importance of an open, inclusive environment in inspiring their creativity and innovative ideas.
Sarah Shin, one of the nation's leading scholars on bilingualism and TESOL teacher development, shared the story of beginning her career at UMBC several years ago with some uncertainty about how her status as new parent would be received. Reflecting on the relationships she developed once on campus, Shin shared, "I am the professor I am today because of the support I have received from this community."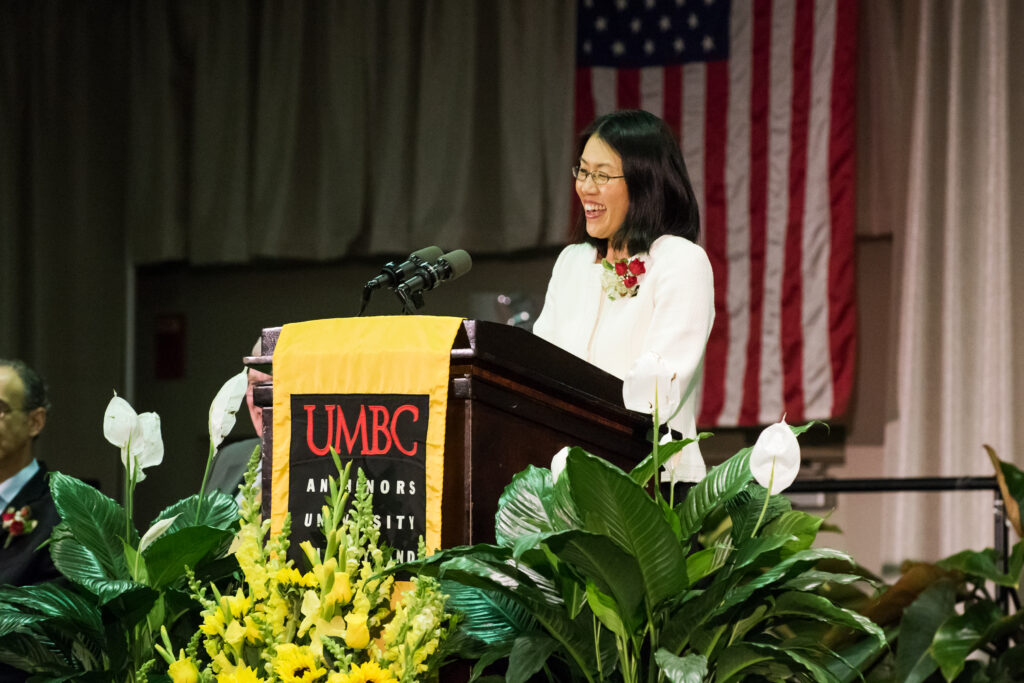 Ali Shahegh, recognized as a thoughtful, positive source of inspiration to his colleagues, shared these sentiments, commenting, "UMBC has become a second home for me over the years" thanks to everyone's "unwavering support and friendship."
Although the event focused on the achievements of faculty and staff, awardees shared their gratitude for the students they encounter daily through teaching, research, and life on campus. "This award…is all about the students," said global engineering visionary Marc Zupan, sharing that his research and teaching have developed over the years thanks to constantly being "surrounded by students asking good questions."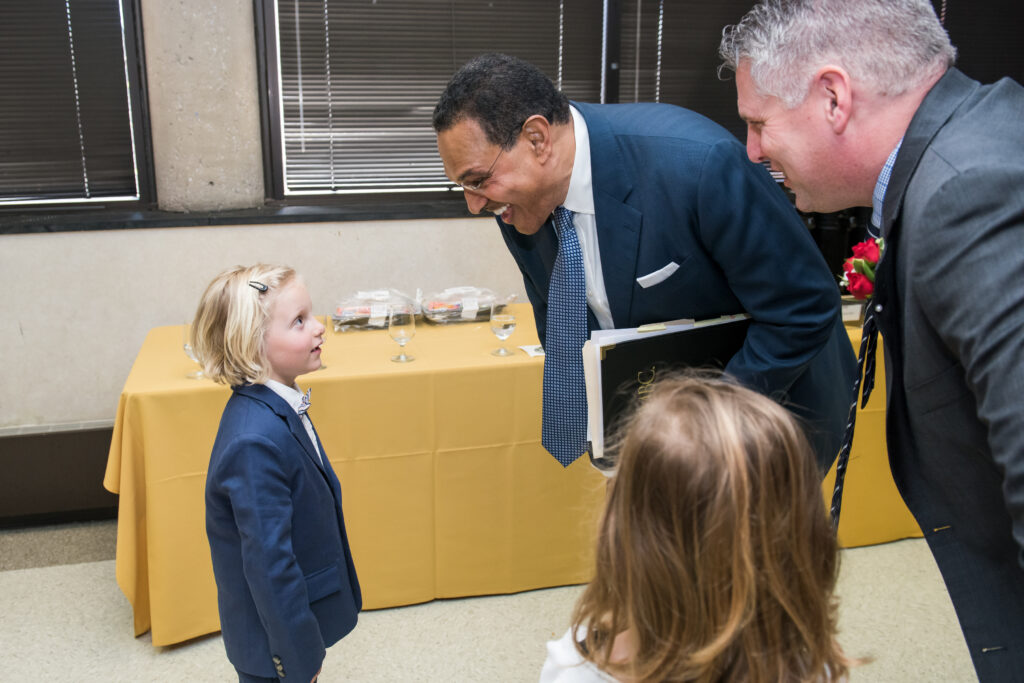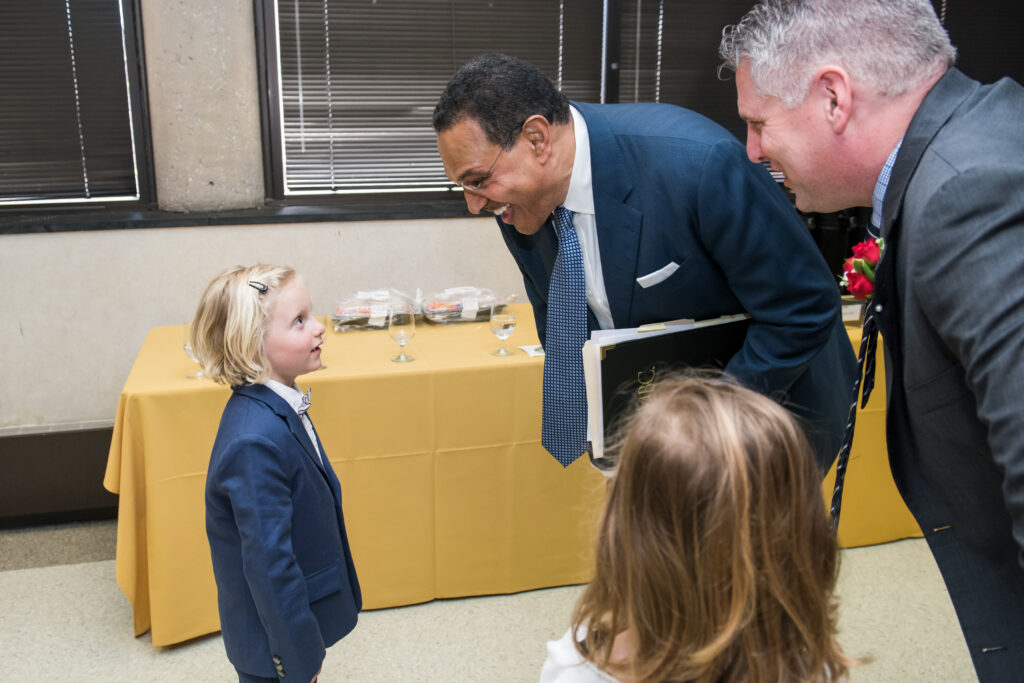 Kathie Seley-Radkte, an internationally renowned expert on drug design through chemical synthesis, asked her graduate students in the audience to stand for a round of applause. "I couldn't have done this without my students," she said. "Without their hard work, taking care of things while I travel the globe, I wouldn't be able to do what I do today."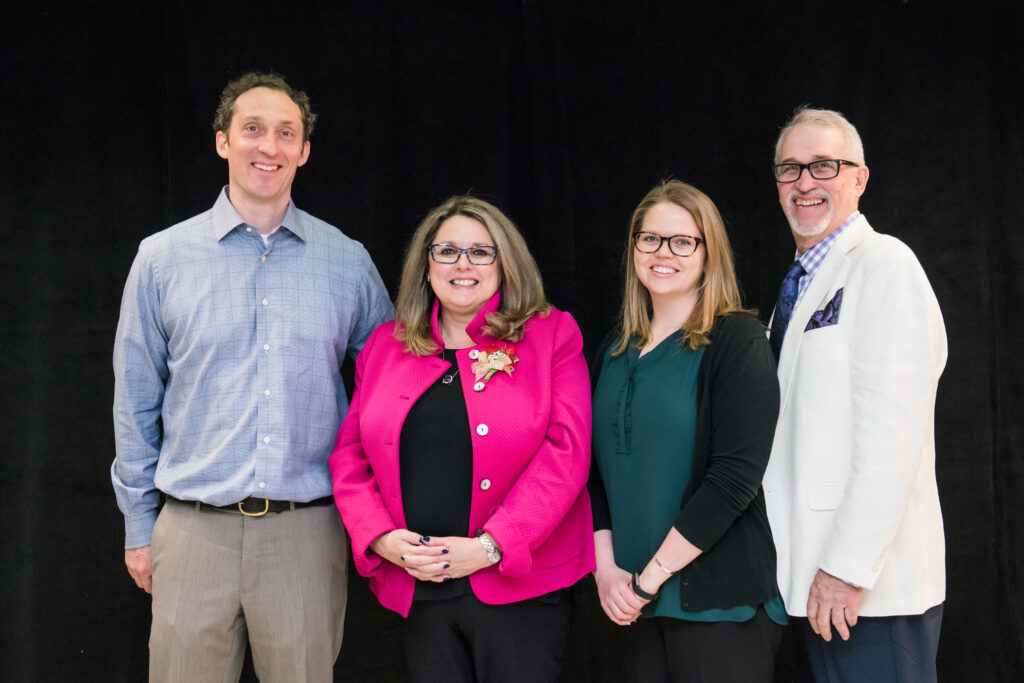 Janet McGlynn shared the special impact working with students has had on her life and career, particularly students who "came to UMBC with hopes and aspirations, but no idea that they could do research" and who then worked with her to gain research experience and expand their graduate school and career possibilities.
Students also serve as a daily source of inspiration for Abigail Granger '10, psychology and gender and women's studies, M.P.S. '13, I/O psychology. "I want to thank our students," Granger shared in her remarks. "It is truly their passion and their ambition that drives my work every day."
This level of community spirit and mutual respect and admiration came as no surprise to President Freeman Hrabowski. "It's amazing what happens when people care about each other and the transformative power of education," he said, in closing the event. "It's a privilege to be part of this community."
President Hrabowski also shared a few examples of university achievements from 2016-17 during the event. A fuller list of university achievements is available on the president's webpage.
Photos: All PFASA event photos are by Marlayna Demond '11 for UMBC.