Two university presidents and Baltimore city youth joined hands to cut a cake bedecked in a giant red ribbon celebrating the grand opening of the city's first Flying Fruit Cafe.
The cafe is part of a job training program out of The Choice Program at UMBC that serves 200 local youth each year. Located on the sixth floor of the University of Baltimore (UB) John and Frances Angelos Law Center, it offers year-round job training and employment skills development for Baltimore area youth, with coaching, mentoring, and structured engagement activities provided by AmeriCorps members, all based in a vibrant university environment.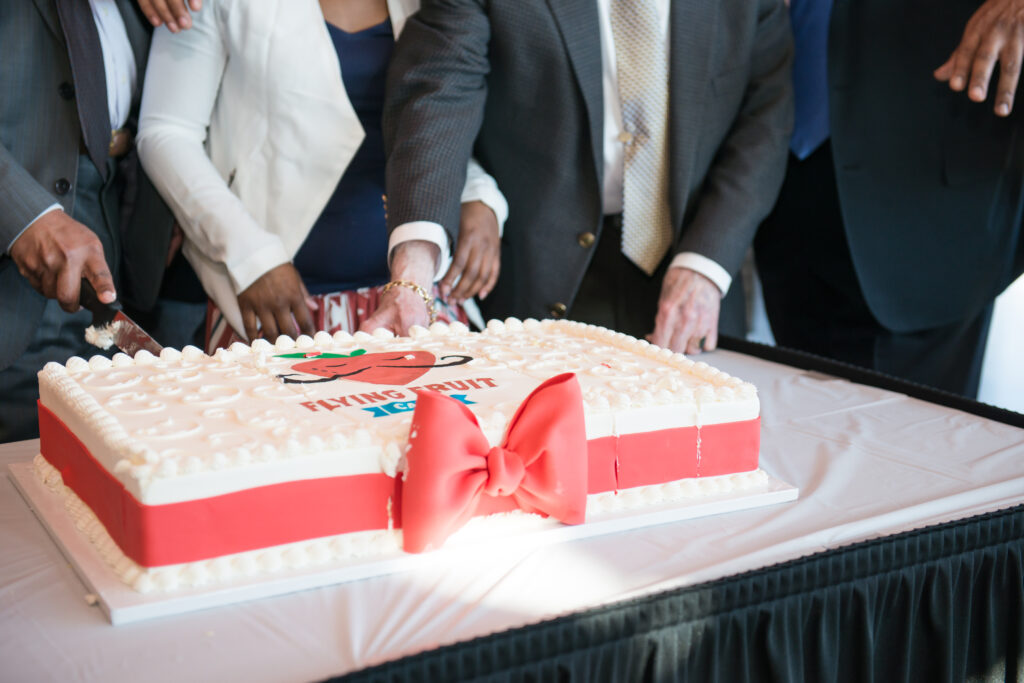 UMBC President Freeman Hrabowski and University of Baltimore President Kurt Schmoke presented remarks during the ribbon cutting ceremony held on February 18, 2016. AmeriCorps Opportunity Youth Matt Smith and Daesha Johnson shared their personal experiences with The Choice Program and the profound impact it has had on their lives.
Daesha described how the Choice Program provided a support network for her as she worked toward completing her high school diploma and helped put her on a path toward college and a career in nursing.
"Choice gave me that support…by allowing me to have the opportunity to be a leader among my peers and awareness of being a good example," shared Daesha.
Matt explained how the Choice Jobs Program helped him confront and overcome challenges, and realize his potential.
"I never thought I'd find myself in this line of work, working with youth as an AmeriCorps Opportunity Youth, providing job training to kids like me when I was growing up," said Matt. "I must say, The Choice Program has changed my commitment to serve my city."
The Choice Program currently operates a Flying Fruit smoothie stand at Camden Yards during the baseball season and a Flying Fruit kiosk at the Inner Harbor behind the Maryland Science Center from April to October.
"Having a job and the skills to be successful in a work environment are essential," says LaMar Davis, director of The Choice Program. "Most of us can remember how important our first job felt. Our youth need access to the opportunities that match their potential. This cafe offers a year-round on-the-job supported employment training model that helps young people enter into the world of work, building confidence and competencies."
"UB has been pleased to partner with UMBC's Choice Program to establish the Flying Fruit Cafe at the law school," says Victoria Schultz, associate dean for administration at the UB School of Law. "The cafe is a wonderful addition to UB that builds community in so many ways."
The Choice Program at UMBC is a nationally recognized model for community-based intervention that has served more than 20,000 youth and their families from Maryland's highest risk communities for more than 27 years. Fifty AmeriCorps Community Service-Learning Fellows provide critical contact, mentoring, and advocacy to young people involved in the juvenile justice and social services systems.
The program's partnership with the Maryland Department of Juvenile Services (DJS) extends for more than 25 years. Focus areas of intervention include education, employment, family involvement, and community supervision. The program works within high poverty communities to reduce external obstacles to youth and family success. Last year, 92% of participating youth completed the program and were not adjudicated with new charges.
"We need to provide young people with pathways to become contributing citizens to their community," affirms Davis. "By using a cascading model of service, The Choice Program at UMBC is launching youth leaders who understand the challenges and have the tools to impact their community's most pressing issues. When we give the right supports and structure, our youth and families can transform their world."
Images: Dawn Kirstaetter, Baltimore deputy mayor; President Hrabowski; Matt Smith; Daesha Johnson; LaMar Davis; UB President Kurt Schmoke. Official ribbon cutting of cafe. Photos by Marlayna Demond '11 for UMBC.