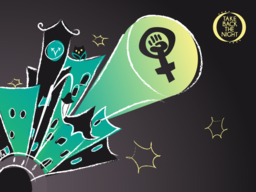 In recognition of Sexual Assault Awareness Month, join the Women's Center, UHS Health Education and Voices Against Violence on Commons Main Street on April 16th at 6pm and let's take back the night!
Events and activities include:
Community Resource Fair (beginning at

6pm

)
The Clothesline Project
Survivor Speak Out Forum (begins at

6:30pm

)
March Against Sexual Violence (begins approx around

7:20pm

)
Art Activism and Community Building (post march)
Community members are encouraged to make rally signs prior to TBTN to show your solidarity with survivors. You can make signs in the Women's Center between 12-3pm on April 13, 14 and 15.
#UMBCtbtn is the official Twitter event hashtag, so follow us there and post your pictures from the evening. Want to learn more about what Take Back The Night is? Visit www.takebackthenight.org for more information.
This event is co-sponsored by: The Women's Center, UHS Health Education, and Voices Against Violence. For more information, contact the Women's Center at womens.center@umbc.edu or 410-455-2714.