UMBC's Society of Women Engineers (SWE) hosted "Fight the Stereotype," an event focused on challenging gender and racial stereotypes related to STEM education and careers, on April 5, 2016.
Julie Ross, dean of UMBC's College of Engineering and Information Technology, spoke about the importance of debunking stereotypes related to engineering fields, particularly pertaining to women and minorities. "People are well meaning," she said, "but they have stereotypes in mind about what engineers look like, talk like, act like."
"How will you fight the stereotype?" Ross asked the audience. "How do we dispel the stereotypes and respond?"
Before Nina Davuluri, an advocate for STEM education for girls and women and Miss America 2014, shared her story, she asked attendees to bring to mind any preconceptions or stereotypes they had about her as a former winner of the Miss America Pageant and an Indian-America. "I grew up feeling that I could never fit in this role of Miss America because of the stereotypes," she shared.
Davuluri encouraged audience members to share stereotypes that they are facing, and to engage in an open conversation about misconceptions, to challenge societal assumptions and microaggressions that can dissuade women and minority students from pursuing their goals.
She says that when she won the Miss America Pageant in 2014, it showed that "it was time for the organization to have a winner that represented the U.S. population," which is much more diverse than stereotypes suggest.   
Davuluri offered, based on her experience, that in addition to public statements, role modeling, and supporting anti-stereotype campaigns, it can also be effective to speak with people one-on-one in an effort to fight against broader societal stereotypes, saying, "that is how we need to learn."
Mona Patel '18, chemical engineering, president of UMBC's SWE chapter, said she hopes attendees continue to educate others moving forward. "My goal for this academic year was to encourage students to get involved in STEM outreach and to educate students on this campus about certain stereotypes," she shared, adding "we hope you take away an important message and continue to educate others around you."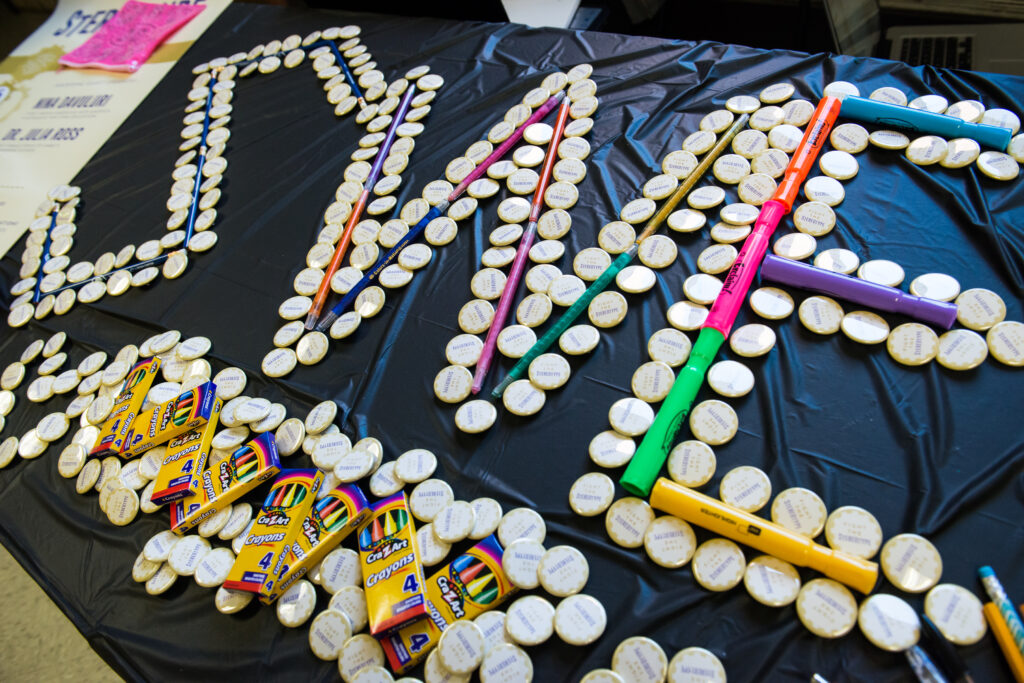 Images: UMBC SWE members with Dean Julie Ross and Nina Davuluri (top) and SWE pins (bottom). Photo by Marlayna Demond '11 for UMBC.