Hailey Lynch
B.S. Mathematics
Summa Cum Laude
Hometown: Baltimore, Maryland
Plans: Investment Fellow, T. Rowe Price
The education I have received at UMBC has undoubtedly prepared me to enter the professional world. I truly believe that I would not be the thinker that I am today had I chosen to attend another institution.
Hailey Lynch is an academic powerhouse, earning her degree in mathematics with a perfect 4.0 record, supported by numerous competitive university and state scholarships. She has also worked hard to take advantage of prestigious internship opportunities that have opened the door to an engaging industry career. While at UMBC, Lynch has completed internships with the Hershey Company and UMBC's department of physics. She says UMBC's Career Center support was instrumental in preparing her for a career upon graduation.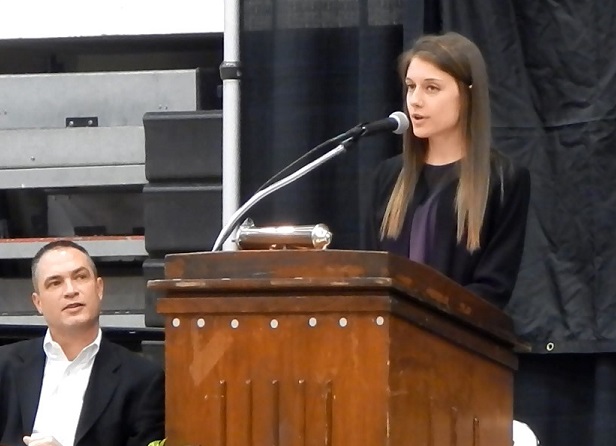 Lynch shares that she is particularly thankful for the nurturing and supportive faculty, staff, and students who helped shape her educational experience. "I am surrounded each and every day by peers who continue to astonish me with their intelligence and drive," she says.
Images: Hailey Lynch shares her personal story with prospective students and their families at UMBC's New Student Day; photo courtesy of Hailey Lynch. Portrait by Marlayna Demond '11 for UMBC.