Essence Fredericks
B.S., Financial Economics
Hometown: Baltimore, Maryland
Plans: Audit position at PricewaterhouseCoopers, LLC
[UMBC] has provided all the tools to help better equip me for my future and has also allowed me access to numerous internship and service opportunities to help me prepare for my future.
Essence Fredericks has taken full advantage of her time at UMBC by pairing her two passions: excelling in the classroom and on the track. Fredericks' academic honors include Honors College membership, a Dean's Scholarship, T. Rowe Price Scholarship, and multiple dean's list honors.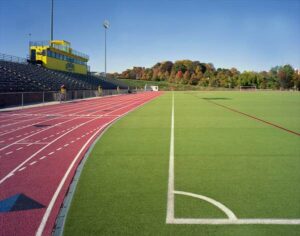 As a member of the Women's Track and Field Team, she competed in several America East Championships in the 500m, 800m, and the 400m hurdles. She was also a standout at other events including the ECAC Championships, George Mason Invitational, and Sykes & Sabock Challenge.
Through internship and service opportunities, Fredericks developed a strong skill set to become highly prepared for a career in financial economics. After graduation, she will begin a full-time audit position at PricewaterhouseCoopers, LLC, a leading multinational professional services network.
Images: The track at UMBC, where Essence says she was able to pursue her dreams each day and develop memories and friendships that will last a lifetime; photo courtesy Essence Fredericks. Portrait by Marlayna Demond '11 for UMBC.