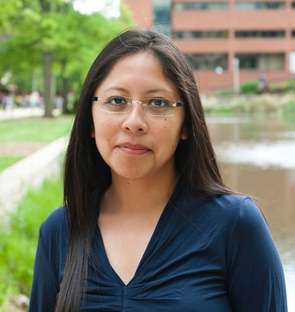 Carla Viviana Coleman, assistant professor of design, is one of five experts who contributed to a special feature on the best-designed products of all time, published by the The Conversation.
Coleman's essay focuses on Microsoft HoloLens virtual reality glasses. "The product was designed with ergonomics in mind," Coleman notes, distinguishing it from "heavy, cumbersome" predecessors and increasing its potential impact on our everyday lives.
"While one could easily imagine a new generation of video games being designed for the HoloLens, a number of employers have realized the glasses can improve workplace productivity and ease the burdens of certain jobs," Coleman writes. She describes how the glasses are being used to improve efficiency and create new opportunities in technical and medical workplaces:
For example, the company ThyssenKrupp, which manufactures elevators and escalators, has begun giving HoloLenses to its elevator technicians, with the idea that the glasses will allow them to access data much more efficiently. The employees can multitask, choosing either to lift up the spherical visor or to keep it in front of their eyes as needed – all while working in a cramped elevator shaft.
Coleman also highlights how some medical schools are using the HoloLens to train doctors in anatomy without using cadavers, and Volvo is using it as a tool in car design.
The article originally appeared in The Conversation, and has also been published in Scientific American, Salon, and the Christian Science Monitor.
Header image: Microsoft HoloLens, by Ramadhanakbr Wikimedia (CC BY-SA)