Christos Palios '02, visual arts, is among the seven talented finalists vying for the Janet & Walter Sondheim Artscape Prize, which recognizes a working artist in the Baltimore region with $25,000 to further their career. The Baltimore Museum of Art (BMA) has included his work in a Sondheim Prize finalist exhibition on view now through July 31.
Each year the museum hosts this exhibition in the Thalheimer Galleries. The exhibit enables finalists to present their work to the public and also to the contest jurors. The diverse finalists produce an eclectic array of work each year—work often as significant as that in a solo show.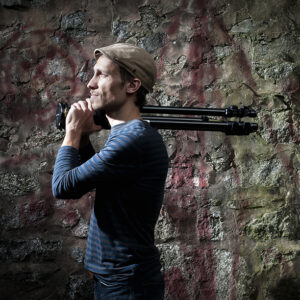 Palios, born in Baltimore, is a fine art photographer "whose work probes ideas and aspects of identity, memory, and isolation within urban, industrial, and natural spaces." His work can be found in public and private collections all over the country, and has appeared in such online publications as F-Stop Magazine and Dotphotozine. For the Sondheim exhibition at the BMA, he presents photographs from two series he developed while visiting family in Greece.
UN-FINISHED // Contemporary Ruins is a collection of obviously abandoned unfinished concrete buildings on otherwise empty landscapes in the Greek countryside. Together the pictures are a bizarre and fascinating collection that Palios says are "pillars of stalled progress," testament to both the current economic struggles and perhaps an ethos, comparable to the American Dream, that fueled it.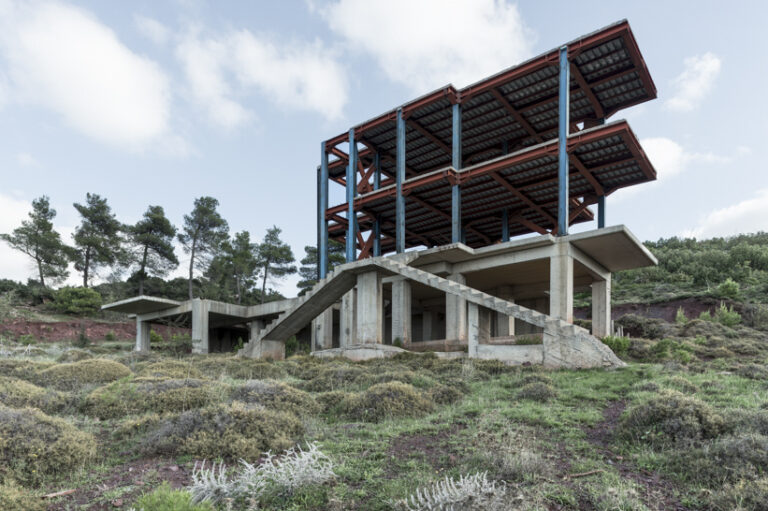 Palios' second series in the exhibition is also devoid of people, but feels far less abandoned. In Conversations, a series of vivid still lives of post-meal tables seen from overhead embody the vitality of the diners just out of view but with their cell phones, keys and other personal items still on the table. The pictures capture their presence and the taste, smells and sounds of the meal and conversation they've just shared. Palios is particularly interested in the tech on the table and how our fixation with these devices might be changing the dynamic of the dinner table, recently commenting to the Baltimore Sun "I remember my 87-year-old grandfather picking up a flip phone to look at the time, even though he had a watch on."
An independent panel of jurors chooses the finalists and semifinalists. This year's jurors are Tim Griffin, executive director and chief curator at The Kitchen; Rujeko Hockley, assistant curator of contemporary art at the Brooklyn Museum; and Mia Locks, co-curator of The Whitney Museum of American Art's 2017 Whitney Biennial. The prestigious award is named after the late Baltimore civic leader Walter Sondheim and his late wife, Janet, and presented in conjunction with the Artscape arts festival.
The winner will be announced at an award ceremony followed by a reception on Saturday, July 9 at 7 p.m. In addition, M&T Bank has partnered with the Baltimore Office of Promotion & the Arts to grant the M&T Bank Sondheim Finalists' Awards, which provide a $2,500 honorarium for each of the remaining finalists not selected for the fellowship.
Several UMBC community members will also be presenting work in the 2016 Sondheim Semi-Finalist Exhibition, including Marian Glebes, M.F.A. '09, intermedia and digital arts; Jason Hughes, M.F.A. '15, intermedia and digital arts; Vincent Carney '06, visual arts; Ben Marcin '80, economics; and Lynn Cazabon, associate professor of visual arts. That exhibition is on view at the Decker and Meyerhoff galleries of MICA from Friday, July 15 through Sunday, July 31, 2016. An opening reception for the semifinalist exhibition takes place July 14, 2016, 6-9 p.m. at MICA.
Images, top-bottom: Bittersweet Inevitable, 2016; portrait of artist Christos Palios by Geoffrey Baker; and Dervenochoria, Greece, 2015. All images courtesy of Christos Palios.